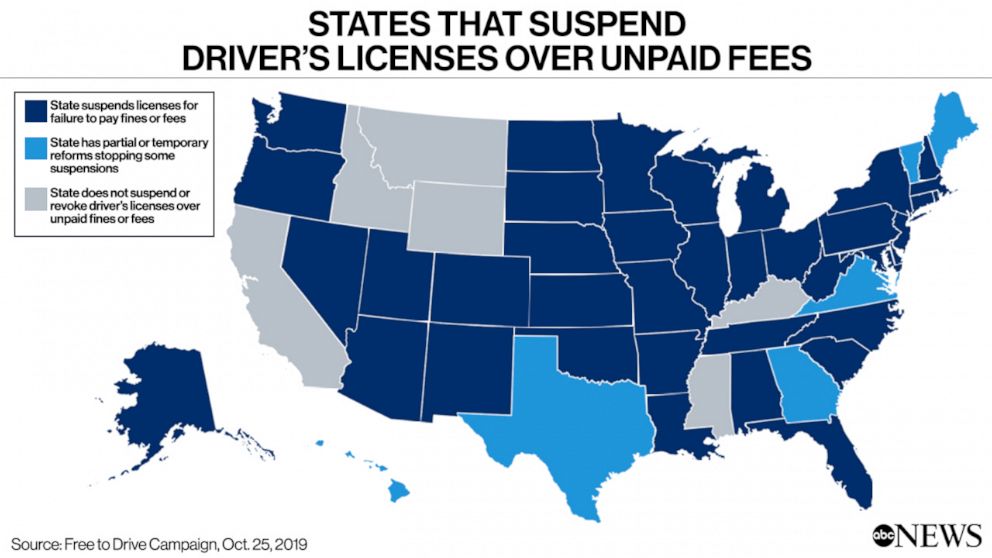 'It's not America': 11 million go without a license because of unpaid fines
Visit ABC News to read the full piece.
The Fines and Fees Justice Center, a non-profit which focuses on this issue and is a part of the Free to Drive campaign, reports that 44 states and D.C. currently suspend, revoke or refuse to renew driver's licenses over unpaid fees stemming from traffic tickets, or fines associated with misdemeanors or felonies.
But the number of states with these regulations has started to decrease in recent years as suspending licenses has started to be viewed as an unjust punishment by politicians and criminal justice advocates alike.
"It's coming up because this is impacting so many people just the numbers are staggering and the number of places where this is a problem is staggering," said Joanna Weiss, the co-director of the Fines and Fees Justice Center.
One such staggering number is 11 million: that's the number of people across the U.S. today that advocates estimate have a suspension in place on their driver's licenses as a result of not paying fines or fees or missing a hearing date, Weiss said, though she noted that number is likely "a gross undercount" because of what she says are the shoddy reporting practices in certain states.
There are no official national figures for driver's license suspensions as a result of unpaid fines and fees, and some states provided varying amounts of information to the Free to Drive Campaign in their effort to determine a national estimate, while other states did not provide any data.
Driver's licenses can be suspended for a raft of non-driving-related factors such as failure to pay a fine, failure to pay child support, failure to maintain proper insurance, drug convictions and even truancy, according to the National Highway Traffic Safety Administration.
Even if fines are on the smaller side, they can spiral quickly, making them impossible to pay off for many, advocates say. Simple fines can turn into license suspensions or worse.
"For many people, they get a traffic ticket, they're on a limited budget, their choice is pay that traffic ticket or pay their rent, or their utilities or buy groceries or medicine, and so they chose the basic needs of their family first," Weiss said.
"There can be interest, the fines can double, there can be late fees and penalties — that original amount that they were assessed can immediately go up and even double."